Z
E
N
°
B
O
O
K
S
→
All Reviewed
→
All Recommended

NAMASTE°GREETINGS!


Welcome to the Zen Guide, a simple site that provides basic principles of Buddhism, its practices including a guide to zazen, its related media including on-line text of books, sutras, koans, and an online community forum to foster discussions, get help, and meet others who are interested in Buddhism. There is of course, a brief history of Buddhism, as well as a user-submitted searchable directory of Zen/Buddhism groups.
F
O
R
U
M
Latest posting in the forum.
Oct.31.2014 @ 01:16PM ET
Self
→
Go to Dicussion Forum
Z
E
N
°
R
S
S


24-hour zen and buddhism news from around the world and zenguide.com contents in RSS/XML format.

Syndicated zen and buddhism news from sources around the internet. Check it out in the new resources' 24-hour news section.

Add zenguide.com contents to your site! Many parts of the zenguide.com are now available via RSS/XML feeds so you can display the information in any way you like.



MAKE A DONATION

+

Redcross Relief Efforts

+

Worldwide Relief Efforts
Z
E
N
°
N
E
W
S

Spiritual scholar (and Uma's father) explains how to love your enemies and vote for Wendy Davis -

In a world of war, disease and really nasty Internet comments on just about everything, it's getting harder and harder to love your enemies. But that's what we should so, according to noted Buddhist scholars Robert Thurman and Sharon Salzberg , w...
→More News
Z
E
N
°
R
A
N
D
O
M

K
O
A
N


A random short story for you to ponder.

Suiwo, the disciple of Hakuin, was a good teacher. On a certain day a certain pupil came to him, and Suiwo gave him the problem, "Hear the sound of one hand."

The pupil remained three years, but could not pass the test. One night he came to Suiwo in tears. "I must return to my home in shame," he said, "for I cannot solve the problem."

"Wait another week," said Suiwo. "Meditate constantly." Still no enlightenment came to the pupil. "Try for another week," said Suiwo. The pupil obeyed, but to no avail.

"Still another week," requested Suiwo, but in vain. In despair the pupil begged to be released, but Suiwo asked for one more meditation of five days. They too were without result. Then Suiwo said: "Mediate for three days longer. If you still fail to attain enlightenment, you had better kill yourself."

On the second day the pupil was enlightened.
Z
E
N
°
A
R
T


Free zen wallpapers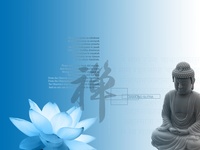 For original zenguide.com digital art wallpapers, visit the art download page.