Z
E
N
°
B
O
O
K
S
→
All Reviewed
→
All Recommended

NAMASTE°GREETINGS!


Welcome to the Zen Guide, a simple site that provides basic principles of Buddhism, its practices including a guide to zazen, its related media including on-line text of books, sutras, koans, and an online community forum to foster discussions, get help, and meet others who are interested in Buddhism. There is of course, a brief history of Buddhism, as well as a user-submitted searchable directory of Zen/Buddhism groups.
F
O
R
U
M
Latest posting in the forum.
May.25.2020 @ 04:56PM ET
Trollosphere
→
Go to Dicussion Forum
Z
E
N
°
R
A
N
D
O
M

K
O
A
N


A random short story for you to ponder.

A wandering monk called Vaccha asked the Buddha if the Buddha would still exsist after death. The Buddha replied:
"Vaccha, the idea that I would exist or not exist after death - such ideas lead to dense jungles and arid deserts, to entanglements as though caught by thorns. They bring about anger, delusion, and argument and they do not bring about peace, knowledge, or wisdom leading to enlightenment. I do not take up any of these ideas."


"Then has the Buddha any belief of his own?"
"Vaccha, I have nothing to do with beliefs or theories, but declare what I know. I declare the nature of form, how it arises and how it perishes; the nature of perception, how it arises and how it perishes. And because I have completely abandoned all fantasies, false ideas, and imaginings about the nature of self or anything to do with the self, I am freed from self."


From Digha Nikaya of the Buddha
Edited by Anne Bancroft
Z
E
N
°
A
R
T


Free zen wallpapers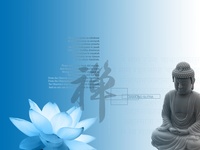 For original zenguide.com digital art wallpapers, visit the art download page.