Z
E
N
°
B
O
O
K
S
→
All Reviewed
→
All Recommended

NAMASTE°GREETINGS!


Welcome to the Zen Guide, a simple site that provides basic principles of Buddhism, its practices including a guide to zazen, its related media including on-line text of books, sutras, koans, and an online community forum to foster discussions, get help, and meet others who are interested in Buddhism. There is of course, a brief history of Buddhism, as well as a user-submitted searchable directory of Zen/Buddhism groups.
F
O
R
U
M
Latest posting in the forum.
Aug.18.2019 @ 06:55AM ET
Physical Body That Is You
→
Go to Dicussion Forum
Z
E
N
°
R
A
N
D
O
M

K
O
A
N


A random short story for you to ponder.

Twenty monks and one nun, who was named Eshun, were practicing meditation with a certain Zen master.

Eshun was very pretty even though her head was shaved and her dress plain. Several monks secretly fell in love with her. One of them wrote her a love letter, insisting upon a private meeting.

Eshun did not reply. The following day the master gave a lecture to the group, and when it was over, Eshun arose. Addressing the one who had written to her, she said: "If you really love me so much, come and embrace me now."
Z
E
N
°
A
R
T


Free zen wallpapers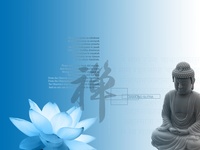 For original zenguide.com digital art wallpapers, visit the art download page.