Z
E
N
°
B
O
O
K
S
→
All Reviewed
→
All Recommended

NAMASTE°GREETINGS!


Welcome to the Zen Guide, a simple site that provides basic principles of Buddhism, its practices including a guide to zazen, its related media including on-line text of books, sutras, koans, and an online community forum to foster discussions, get help, and meet others who are interested in Buddhism. There is of course, a brief history of Buddhism, as well as a user-submitted searchable directory of Zen/Buddhism groups.
F
O
R
U
M
Latest posting in the forum.
Sep.24.2021 @ 07:30AM ET
Alan
→
Go to Dicussion Forum
Z
E
N
°
R
A
N
D
O
M

K
O
A
N


A random short story for you to ponder.

Tri Bao was the Vietnamese Zen master of the 10th generation of the linage of Vo Ngon Thong.
When he did not realize yet the Tao, he happened meeting a Zen monk. The Zen monk asked him:
- Where did you come from when you were born, where will you return to when you die?
He was thinking, the monk said:
- When you are thinking, the white clouds in the sky have gone ten thousand miles away.
He could not say a word. The monk said loudly:
- A good temple but no Buddha.
The monk then left. He felt pity for himself and said:
- I am a monk but do not yet get the essence of a monk at all.
Then he wandered everywhere to seek the good teachers and study with them. When he called on
the Zen master Ðao Hue in Tien Du, he asked Ðao Hue the question that the Zen monk had asked him.
Ðao Hue said:
- When you were born you came from nowhere, when you die you return to nowhere.
He asked:
- If so, it would fall into the empty space, wouldn't it? Ðao Hue said:
- The True Nature is marvelous and complete, its essence is true empty and quiet, it functions as it does,
and is free from life and death. Therefore, when you were born you came from nowhere, when you die
you return to nowhere.
Right at the words, he realized it and said:


"If there were no wind that blew all the clouds away,
How could the clear sky be seen throughout ten thousand miles?"


Ðao Hue asked:
- What did you see?
He replied:
- People under the sky know each other, but just a few are good friends.
Then he bowed to say goodbye and went back to his mountain.
Z
E
N
°
A
R
T


Free zen wallpapers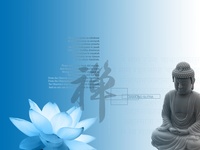 For original zenguide.com digital art wallpapers, visit the art download page.