Z
E
N
°
B
O
O
K
S
→
All Reviewed
→
All Recommended

NAMASTE°GREETINGS!


Welcome to the Zen Guide, a simple site that provides basic principles of Buddhism, its practices including a guide to zazen, its related media including on-line text of books, sutras, koans, and an online community forum to foster discussions, get help, and meet others who are interested in Buddhism. There is of course, a brief history of Buddhism, as well as a user-submitted searchable directory of Zen/Buddhism groups.
F
O
R
U
M
Latest posting in the forum.
Jul.06.2020 @ 09:31PM ET
If You Know How To Look You See
→
Go to Dicussion Forum
Z
E
N
°
R
A
N
D
O
M

K
O
A
N


A random short story for you to ponder.

Ching-yuan Wei-hsin, a Chinese Ch'an master, once said this:
Thirty years ago, when having not studied Ch'an,
this monk saw mountain was mountains and water was water.


Later, when following the good teacher's guide, this monk could enter the gate of Ch'an,
and saw mountain was not mountain and water was not water.


Now, in the realm of joy and peace and tranquility where everything as-it-is,
this monk sees mountain is just mountain and water is just water.
Z
E
N
°
A
R
T


Free zen wallpapers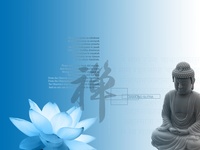 For original zenguide.com digital art wallpapers, visit the art download page.