Z
E
N
°
B
O
O
K
S
→
All Reviewed
→
All Recommended

NAMASTE°GREETINGS!


Welcome to the Zen Guide, a simple site that provides basic principles of Buddhism, its practices including a guide to zazen, its related media including on-line text of books, sutras, koans, and an online community forum to foster discussions, get help, and meet others who are interested in Buddhism. There is of course, a brief history of Buddhism, as well as a user-submitted searchable directory of Zen/Buddhism groups.
F
O
R
U
M
Latest posting in the forum.
Aug.18.2017 @ 12:05AM ET
Assuming The Reality
→
Go to Dicussion Forum
Z
E
N
°
R
A
N
D
O
M

K
O
A
N


A random short story for you to ponder.

Tanzan and Ekido were once traveling together down a muddy road. A heavy rain was still falling.

Coming around a bend, they met a lovely girl in a silk kimono and sash, unable to cross the intersection.

"Come on, girl" said Tanzan at once. Lifting her in his arms, he carried her over the mud.

Ekido did not speak again until that night when they reached a lodging temple. Then he no longer could restrain himself. "We monks don't go near females," he told Tanzan, "especially not young and lovely ones. It is dangerous. Why did you do that?"

"I left the girl there," said Tanzan. "Are you still carrying her?"
Z
E
N
°
A
R
T


Free zen wallpapers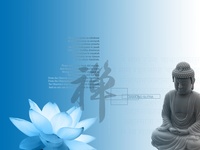 For original zenguide.com digital art wallpapers, visit the art download page.