Z
E
N
°
B
O
O
K
S
→
All Reviewed
→
All Recommended

NAMASTE°GREETINGS!


Welcome to the Zen Guide, a simple site that provides basic principles of Buddhism, its practices including a guide to zazen, its related media including on-line text of books, sutras, koans, and an online community forum to foster discussions, get help, and meet others who are interested in Buddhism. There is of course, a brief history of Buddhism, as well as a user-submitted searchable directory of Zen/Buddhism groups.
F
O
R
U
M
Latest posting in the forum.
Oct.28.2020 @ 06:09AM ET
The Universal Truth
→
Go to Dicussion Forum
Z
E
N
°
R
A
N
D
O
M

K
O
A
N


A random short story for you to ponder.

Posted on Aug.20.2009 @ 11:07PM EDT by chontri



Bhikkhus, what is ignorance?
Not knowing suffering,
Not knowing the origin of suffering,
Not knowing the cessation of suffering,
Not knowing the path leading to the cessation of suffering.
This is called ignorance.



From "Samyutta Nikaya" of the Buddha
Adapted from the Vietnamese version.
Z
E
N
°
A
R
T


Free zen wallpapers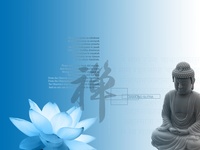 For original zenguide.com digital art wallpapers, visit the art download page.